Quad QSP-2 Pick and Place
Quad QSP-2 Pick and Place System
High Speed Multifunctional SMT Assembler
The Tyco Electronics QSP2 Plus is so versatile it offers you a whole new class of high-speed in-line solutions. You can configure it in your line as a single assembler, in tandem with a chip shooter, or as a more flexible chip shooter replacement. You are free to select the configuration that balances your high-speed line for optimum profit.
The QSP-2 Plus combines innovative technologies to provide the speed of a turret machine with the precision needed for fine pitch placement in one multifunctional assembler, two independent P4 placement heads, each featuring dual placement systems, allow the QSP-2 Plus to place four components at the same time. It's all under control of our patent-pending Quadalign in-process lead inspection and alignment system.
The result is truly astounding. Unlike other high-speed assemblers, the QSP2 Plus has the remarkable ability to place all size chips at high speed without slowing down. No other high-speed assembler can match its flexibility for in-line process and productivity.
PPM offers 100% support for the Quad QSP-2 with spare parts and technical support.
Quad QSP-2 Pick and Place System Features:
Dual gantry design provides placement rates up to 14,000 cph takt time
Handles board sizes from 3.2" x 3" to 15" x 18"
In-process QuadAlign touchless centering from 0402 through QFP208 and BGA(* Requires Optional ThinPRO Feeder)
Quad's innovative P4 (Pick-Pick, Place-Place) head technology
Exclusive QSOFT operating software with Windows ease of use
Detachable feeder bases and carts for rapid changeover
Noncontact linear encoders
Programmable transport
Optional Intelligent Feeder System for setup verification
0.3mm ultra-fine pitch capable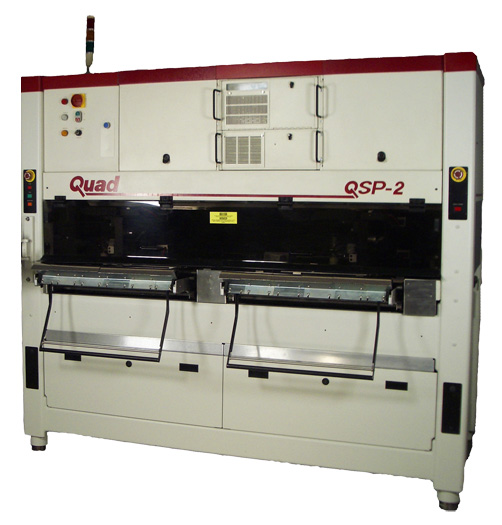 Quad / Tyco Repairs, Spare Parts
PPM is an exclusive supplier and manufacturer of replacement parts for its QUAD product line...»»
---